Taskade 2.0: Convo and Workflow Shall Nevermore Be Apart
The old school industrial corporate structure was all vertical and stratified, think Brazil, The Hudsucker Proxy or even Office Space—large complexes with each department siloed in its own dedicated floor or wing, cut off from one another except by phone lines or pneumatic tubes. 
Luckily, this vision of work seems quaintly out-of-date, and thank goodness for that. Today, it's all about a unified workspace, both in the physical world, as well as in the digital sphere of platforms and apps.
Taskade is one of the latest embodiments of the unified workspace for the virtual business environment. It's a to-do list right in your browser, it facilitates team chat and real-time collaboration on projects, and provides team roadmaps for planning, managing, and visualizing said projects. Taskade keeps it simple, with all actions taking place within a single window. 

Always be upping
Since its first announcement back in December of 2017, the team at Taskade hasn't been resting on their laurels. They've been dropping updates and new features like hot productivity potatoes. The app has been in full 2.0 mode since early summer 2019, with constant new goodies thrown in—version 2.7 just came out at the end of July 2019.
It's encouraging to know that a platform keeps pushing itself further along no matter how fresh it still feels.
Taskade's templates and more
A Taskade workspace is a collection of projects. You can invite people to join an entire workspace, or share projects on an individual base.
There are so many things a project can be, and Taskade has loads of templates for each of them. 
Take team management, for example, the platform includes templates for things like daily standups, 1:1 meetings between managers and employees, and team task lists. There are even personal templates for household management and the ultimate bucket list.
If you really want to keep it simple, of course, there's a blank project option you can build up from scratch.
When adding tasks to your project, you've got all the standard formatting options. Comments on tasks can include @ mentions to teammates, or you can fully assign tasks to them.
There's a more robust search feature that's been recently added, which goes through tasks, tags, comments, and projects.
Next, on the view
No matter which template, Taskade has several options that change the way it's all laid out. The view options are:
List

Board

Action

Mindmap

Chart

The list view option is perhaps the most basic view. You can list your to-do items using bullet points and sub-bullet points, checkboxes or numbers. Color coding helps keep items categorized.
This view takes its cue from Kanban, where each column from right to left represents a stage on the way towards completion. The cards, which form the vertical columns, are structured like list view, with points and color-coding.
Action
The action view puts the emphasis on priority setting. It's sort of like the list view but with more details baked into each line. Most germane among them are due dates. Comments and other columns can also be customized.
The mind map view is a more recent edition, joining the Taskade family with version 2.5 in mid-July, 2019.
Ideation is this view option's big aim. This tree-like visual is incredibly useful for brainstorming, letting you and your team plot out the evolution of simple ideas into their various possibility-branches. 
The organizational chart view option is similar to the mind map view option except with a more top-down vertical structure. It lets teams begin with high-end objectives and breaks them down into their smaller components.
This view is the newest kid on the block, coming in with the most recent 2.7 version.
Gabbin' and swappin'
Lots of apps claim to unify collaboration and communication. What sets Taskade apart is that not only are these two features in one platform, the chat box is ever-present, right beside your projects.
Communication isn't limited to live text chatting though. Taskade also supports audio calls and video meetings with a single click.
If you want to share docs, photos, videos or even GIFs with a teammate, you can drag media into the chatbox. There is also a way to upload files to tasks within a project.
Grids and maps
The calendar feature is also a new edition, and obviously it's quite necessary for any truly unified work organization tool.
You can check and uncheck projects, or whole workspaces, to see them laid out in a monthly grid. 
The roadmap is like the calendar's sibling. It lays out the future linearly (as opposed to a grid), stretching each task across the number of days allocated to complete it, while displaying which teammate it's been assigned to.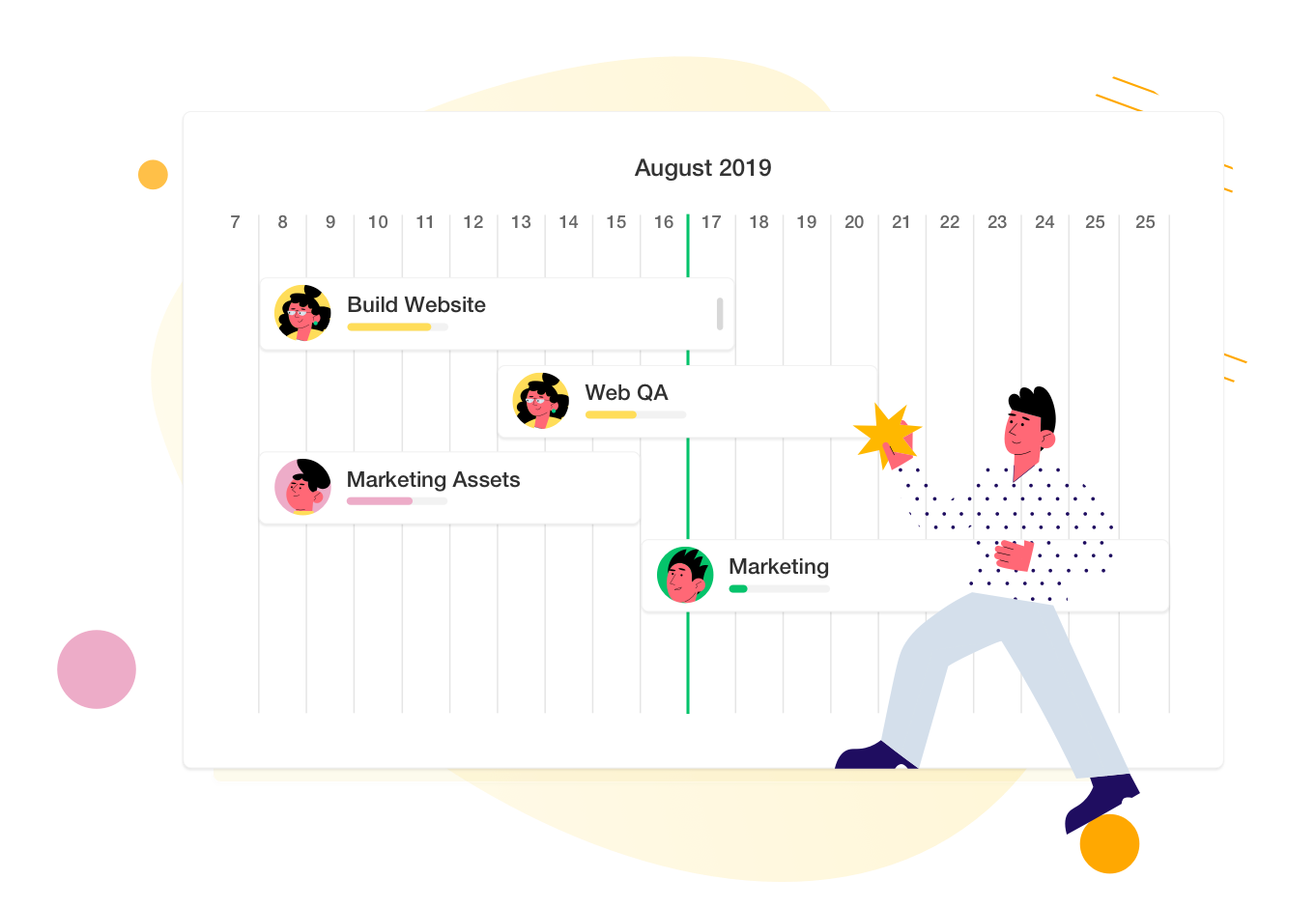 Tech specs and price tags
Taskade is good to go on Mac and Windows. There's an add-on you can get for Firefox and Chrome and the latest update brought Taskade to mobile for iOS and Android. Plus, when you work on Taskade, everything gets auto-synced across all your devices.
Another big seller here is the price. The full-on Pro subscription only goes for ten bucks a month, or seven if you pay upfront for the year at once. What's good to know, is that when you're paying for the pro version, you can invite teammates who use the free version to join your workspaces, without them needing to upgrade.  
Keeping things "simple, flexible, and fun." 
Taskade is HQ'd in NYC, where original co-founders John Xie, Dionis Loire, and Stan Chang are still steering the ship as CEO, CPO, and CTO respectively. Having clients like Lyft, TransferWise and CapitalOne speaks to the volume of their success so-far.
No small feat considering the company is poised as competition for some well-established platforms like Trello, Zenkit or Asana. So, how has Taskade managed to get in there? 
Lifehacker calls it "quick, cute, and incredibly helpful." "Gorgeous," writes TNM of the interface, saying "the attention paid to aesthetics" is what "sets Taskade apart from its larger rivals." Other praises include its "no-fuss, no-frills … extremely simple" functionality—anyone can sign up and be half done organizing their tasks in minutes. Others even think it's fun.

Looking forward to it
Still, the guys behind Taskade had more in mind than a sweet looking interface. Underneath those pleasant pastels is a tool designed for the future of work, which they see as "flexible, remote, asynchronous and real-time." 
Taskade 2.0 shows they've been anticipating the future every step of the way, creating a tool that allows for a modern, global team to collaborate, communicate and boost efficiency with hardly a moment's spent on a learning curve. 
And if it does make work more fun, we'll take that too.