Dubb Drops New Features for Remote Working
Los Angeles-based video communication platform, Dubb encourages sales and marketing teams to use the pre-recorded video as a new means of communication delivery. 
With over 10,000 businesses 'Dubbing' it, the company has just rolled out a handful of new features to further secure Dubb as an indispensable tool for the world of distributed teams and remote workers.
More than a remote possibility
Dubb aims to improve the pace and voice of business communication for sales and marketing. But this tool isn't just a benefit for companies reaching out to potential customers and clients, it works internally too—for distributed teams to work together more closely.   
Old school Dubb
Dubb's main set of tools come as a Chrome extension and desktop app. The platform allows you to record either your screen, your face and voice, or a simultaneous combination of both. There's also a mobile app to make videos.
These recordings are stored in your library on Dubb's servers, where you can title and describe them. One of Dubb's unique selling points is that you can also add CTA buttons to your videos.
Using the Dubb URL, you share these videos via email or messaging apps. The receiver gets a thumbnail or GIF of the video that then takes them to a unique landing page, which you can customize to match your brand. 
Your landing page also serves as a data collector, recording important info like who followed the link, CTA clicks, and video watch rates.
What's new?
Dubb's product updates are more or less all geared for the remote work movement, but many of them are still great additions as standalone tools no matter how a company is structured.
Dubb chat
Dubb chat lets you jump from a video into a real-time text conversation. If your viewer starts a chat, you can respond via the video's landing page site or the mobile app. There's also a neat transcription tool that automatically generates texts as captions and uploads them into the video.
Asana integration
Asana, the team collaboration and project management platform just got Dubb'd. And if this ain't a boon to distributed and remote workforces than what is, right?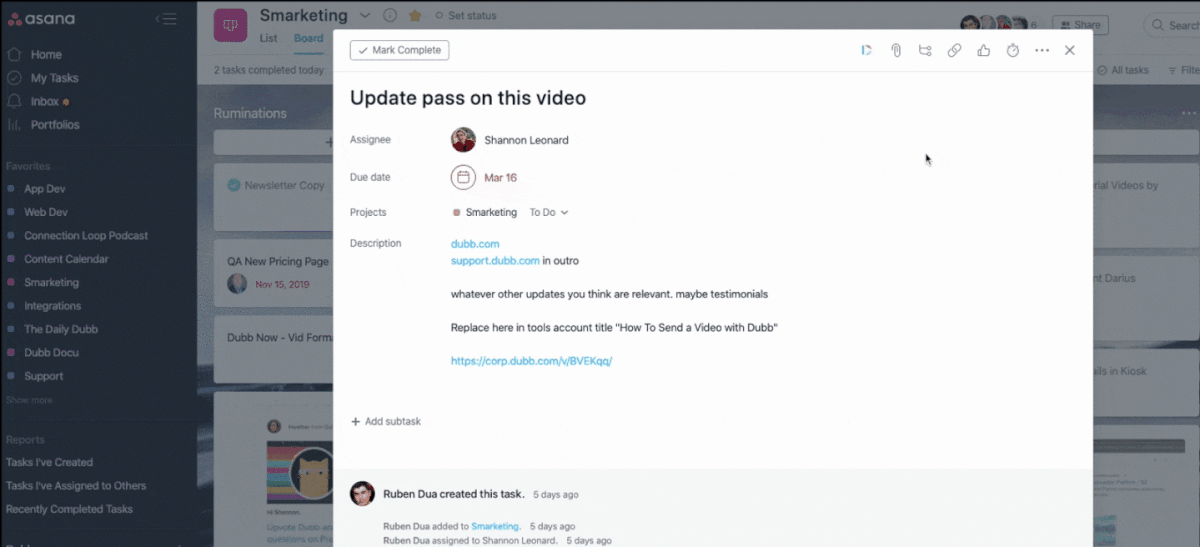 Asana is where teams are already communicating, writing each other messages, as well as adding notes and comments to projects and tasks. So when time might be tight, or hands are tied, or for those that just want the freer flow of speech, the Asana integration means you can create a Dubb video message right from within an Asana task. 
YouTube integration
New YouTube integration means you can throw a YouTube link right into the Dubb platform and voila, now it's part of your Dubb library of videos. This means you can treat the video as you would a Dubb-generated video, even adding a CTA. You can also rename the video or change the description before you share it.
Extra bonus features 
There are a couple of other nice touches to improve the Dubb experience.
Dubb now offers integration with LinkedIn Sales Navigator, which builds on Dubb's previous functionality within LinkedIn that included messages and Recruiter.
Dubb has also greatly beefed up its mobile app. The camera works better, and it's now much easier to add multiple clips, filters, music, even emojis to videos using your phone.
In these times
It's generally great that office culture is expanding to allow alternative setups like distributed and remote workforces. Of course, sometimes the current events of the world make remote work not just an alternative, but a necessity.
So, with the expected massive increase of Dubb users creating and communicating through videos in these times, the company has decided to offer unlimited storage space on their servers for all their subscribers, including those using the free Starter plan (for now). More premium plans go for $32 and $80 per month, billed annually.
Videos: Where the action's at
In today's communication economy, videos have many advantages over traditional written emails and text messages. Dubb makes video communication easy and fast to compose, (especially using the mobile app on the go) and more exciting to receive.
What's more, videos help connect people on a more personal level because of that emphasis on face, voice, gesture, and expression. This helps when connecting with clients, and perhaps even more so, bringing teams together, particularly when there is no common physical space.
What gives Dubb an edge over video conferencing is the ease of recording, and the convenience of viewing, whenever it suits you. Finally, the ability to turn the passive viewing experience into an actionable video (with CTAs) or a real-time conversation (with the new Chat) really makes Dubb special.
With these new features, released under the banner of 'remote work,' Dubb stays true to its original goal of providing a great video messaging tool for businesses (and the world) even in its unpredictably changing directions.