Climbing to New Heights at Nextiva's 2019 NextCon
Not your average tech conference, last week's NextCon kicked off in a supremely mindful fashion—off-stage and in the Sonoran Desert. 
On the first morning of the three-day conference—hosted in Nextiva's hometown of Scottsdale, Arizona—conference attendees were invited to attend a hike hosted by local nonprofit foundation K2 Adventure Travel and NextCon keynote speaker, extreme athlete, and quadruple congenital amputee Kyle Maynard.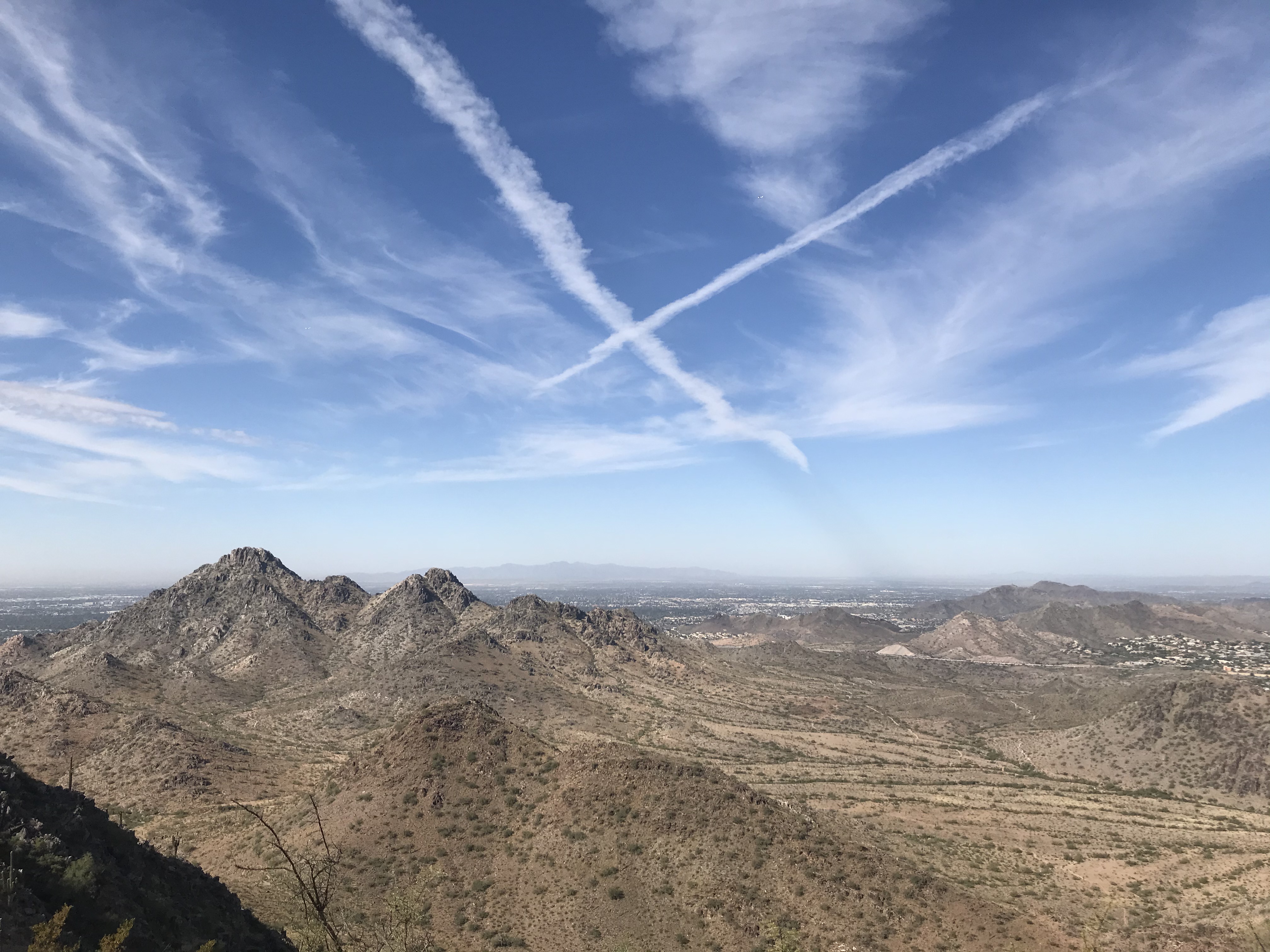 At 650 feet up, gazing across the McDowell mountain range with fellow conference-goers, one doesn't need an information packet to see that this year's NextCon would be centered around themes of introspection, reinvention, positive company culture, and building genuine personal connections.  
Mindful thinking continued into the second day of NextCon as each attendee was invited to set intentions and reflect on "why we're here," before the opening keynote.
In complimentary Nextiva-branded journals, everyone in the room was encouraged to write down one stretch goal for the year, what might keep them from achieving said goal, and why achieving that goal is so important. The exercise marked what Nextiva promised, "the first step in reaching the next level." 
"Where the attention goes, the energy flows." 
—Kyle Maynard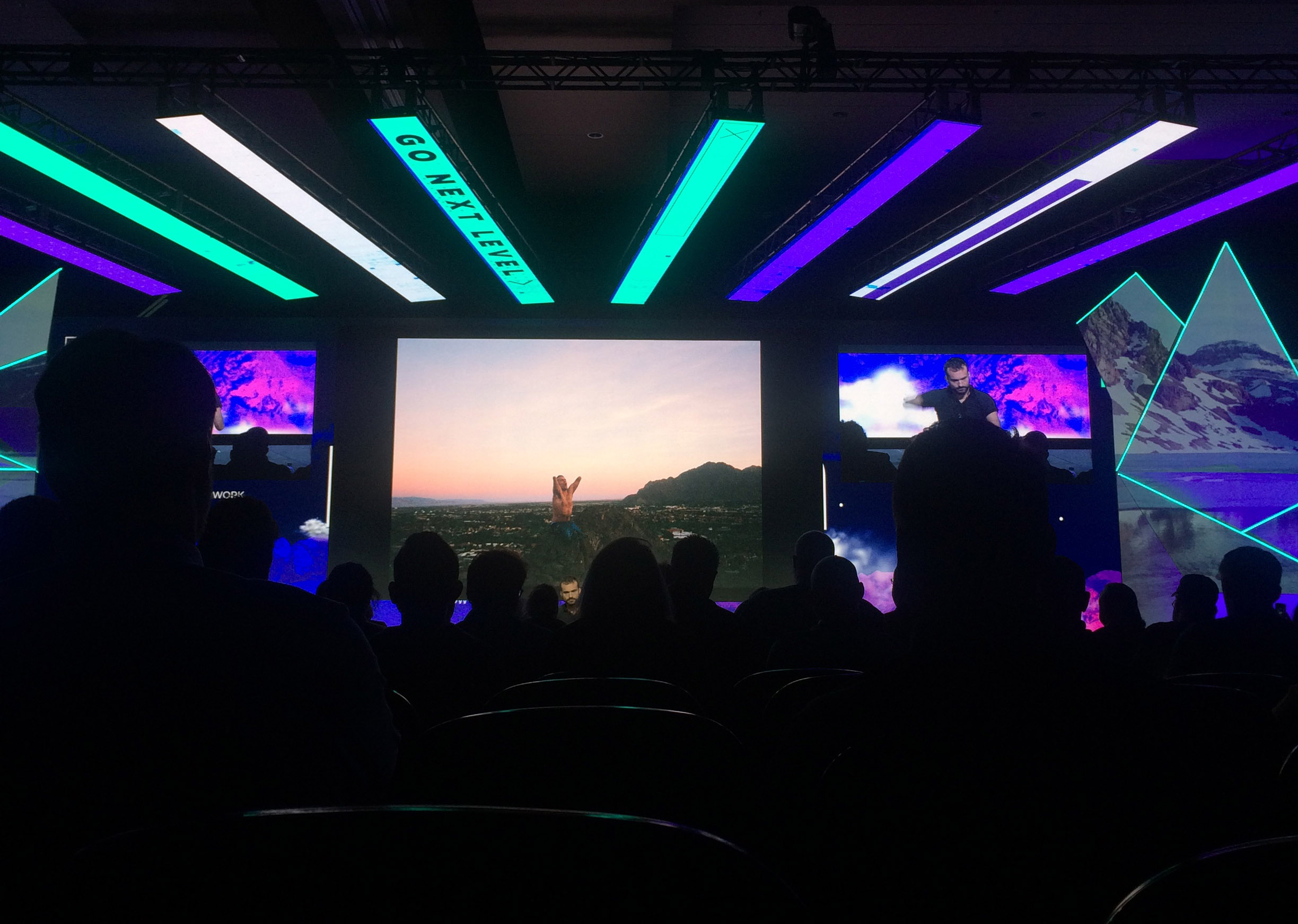 Kyle Maynard opened NextCon 2019 with his keynote, "No Excuses," where he shared a smorgasbord of inspiration that shaped the success of his exceptional life journey. Maynard credits a wide cast of influences ranging from Buddhism to Lord Ganesha—the elephant-headed Hindu god of beginnings, to the value of family, studying chakras, and attending Burning Man. 
On stage, Maynard frequently paused, taking deep, meditative breaths into the mic, filling the auditorium with brief lapses of silence and kicking off NextCon with a sense of calm one would not usually attribute to a tech conference. 
Entertaining and refreshing, yes, though perhaps the most inspiring and relatable moment was Maynard's recount of his challenging ascent of Mount Aconcagua, the highest peak in the Andes. After several days of climbing without the aid of prosthetic limbs, Maynard and his team of guides and friends were running out of time. His friends had no choice but to branch off and climb to the summit without him.
Heartbroken, Maynard explained it was at this moment he learned the only way to reach the summit was to focus on the first three feet ahead.  If he looked up at his friends, the ascent seemed impossible, but if he kept his head down and concentrated solely on what was in front of him, progress came easily. 
Maynard's experience and perspective speaks an invaluable message for both life and work, a reminder that if we remain focused and committed, anything is possible. 
"Know, understand, and remember your customers."
—Tomas Gorny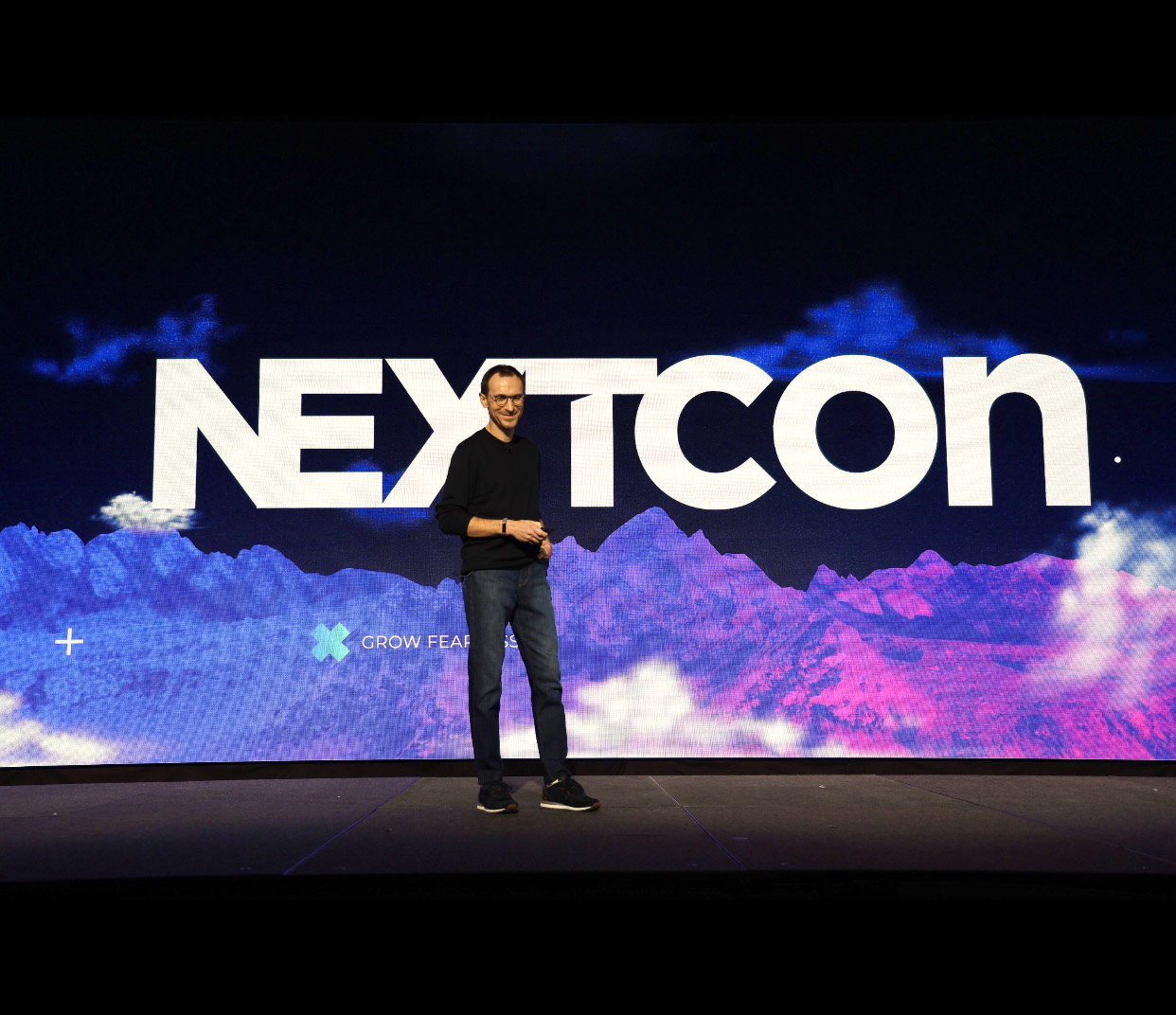 At the heart of NextCon 2019 was the launch of the latest innovations to NextOS, Nextiva's all-in-one business communications platform. 
Several speakers, including CEO Tomas Gorny, CTO Phil Steitz, and VP of Global Product Engineering Chethan Visweswar, introduced Nextiva's latest breakthrough in understanding the customer journey: the Inbox. 
The Inbox is a place where voice, email, chat, and SMS live together with customer management tools, sales, service, and CRM—all in one seamless application. 
Inbox, Gorny explains, is "easy to use, and you already know how to use it." The update combines analytics and the latest NextOS automation to create "the perfect combination of communication and productivity." 
Gorny reminds attendees that even with a good campaign, email remains at a 30% open rate, a high contrast to the 98% open rate of SMS. With one attendee enthusiastically clapping as Gorny spews these stats, it's obvious this isn't 'hot off the press' news for the audience. However, the point is, the market is shifting, and Nextiva doesn't want to let any business leave people behind. 
There are 7,000 customer service software options out there, Gorny suggests saying goodbye to them all. Why not just use Nextiva instead? The latest updates of which have been designed to break the silos between sales, service, and marketing so that businesses can better serve their customers. 
We're not talking CRM, not SaaS, not even UCaaS—while Nextiva's latest offering touches on the functionalities of each of these classifications, this product update represents an entirely new category, "a category that powers human connections." 
Gorny closes his keynote with the proud statement, "our purpose is to democratize innovation so every business has a chance to win."
"Think less, do more."
— Marc Randolph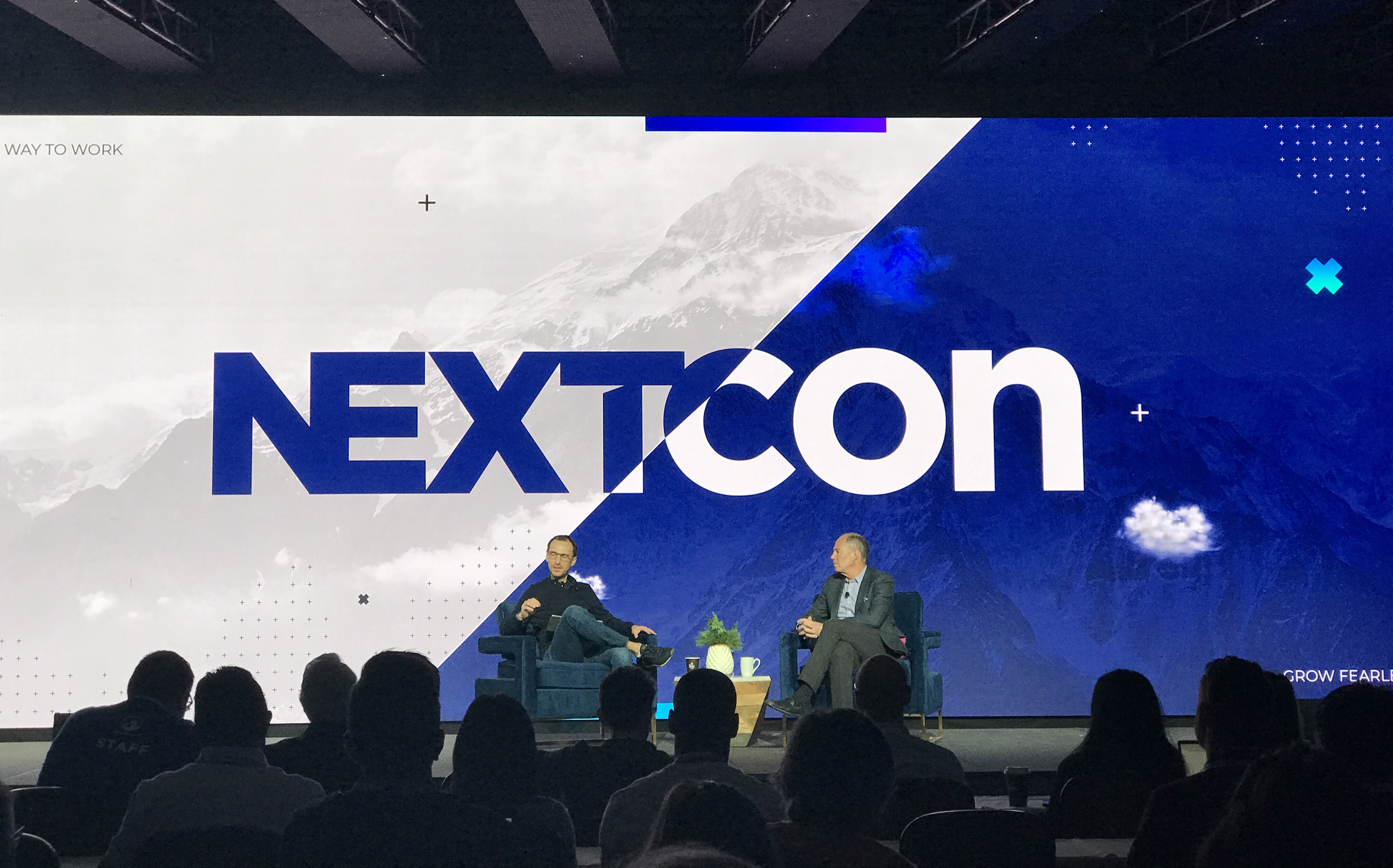 On the final day of NextCon, Tomas Gorny sits down with Marc Randolph, co-founder and first CEO of Netflix, for an epic talk on company culture, learning from small failures, and evolving with the times. 
As a VoIP company in a world of expanding communication channels, Gorny states of Nextiva, "like Netflix, we have to continuously evolve and reinvent ourselves."
It's no secret Randolph has experienced his fair share of reinvention, positioning his experience as a question, "how do you build a business that will actually work today but will still work when the ground shifts beneath you?" 
According to Randolph, the answer lies in the decisions made at the very beginning of shaping a company. Keep it simple. Build a company for high-performers—smart people with good judgment. That means no "guardrails." Eventually, people are going to get bored bowling with a bumper rail at a bowling alley, right? The same principle applies to work. 
Gorny agrees, "a company is as strong as its people," to which Randolph expands, great company culture "is not what you say, it's what you do." 
When asked what the key ingredient to success is, Randolph replies, "think less, do more." Validate your ideas right away. Back in 1997, with a Blockbuster on every corner, why would anyone wait 48 hours for a DVD? Netflix was a "terrible idea" in the beginning, Randolph notes, yet he and co-founder Reed Hastings decided to validate their idea anyway and, well, we all know where that story goes. 
The faster you can get an idea out of your head and into reality, the better. The key, Randolph claims, is to remain focused on optimizing for the future—a principle that clearly resonates with Gorny at Nextiva and is seen reflected in NextOS, a product aimed at revolutionizing the customer experience. 
With over 148 million paid subscriptions worldwide, Netflix is far from startup status. Yet, Randolph credits the company's success to still operating like one: The idea is always to be "willing to go wherever the customer is going."
"Powering human connection"
The general vibe of NextCon 2019 was one of enthusiasm for the future. Hundreds of attendees discovered talks, workshops, product training sessions, and networking opportunities designed to bring their businesses to the "next level." 
To isolate one takeaway from the conference is difficult, but a running theme seemed to be to focus less on the big picture and more on the step-by-step process involved in accomplishing goals. Change can be incremental, but it is also essential—like Kyle Maynard, try taking it three feet at a time.
The climb to the top is never comfortable, but it's the challenge that makes it worth it.