Break Down Language Barriers With Unbabel
In Douglas Adams' The Hitchhiker's Guide to the Galaxy exists a creature named the Babel Fish — a tiny, living fish which when placed in the ear will translate any language into the user's first language.
Sci-fi's predictive qualities strike again as the AI-powered human translation platform, Unbabel, offers a fully realized (and much more user-friendly) translation service akin to Adams' Babel Fish.  
Unbabel intends to build a "world without language barriers by enabling trustworthy seamless and scalable translations between companies and their customers."
Sounds great, right? Apparently, it sounds really great to an impressive roster of investment firms including Scale Venture Partners, Notion Capital, Microsoft Ventures, Salesforce Ventures, and Samsung Next, who have all backed the enterprise SaaS company.
Unbabel is also the first ever Portuguese company to be accepted by the Y Combinator program in 2014. The company pursues the ambitious endeavor to break down business communication barriers by using a unique combination of AI, neural machine translation (NMT), natural language processing, and a global human network of professional post-editors to create fast, quality-driven multilingual communication — which, until now, only existed in Sci-Fi novels.
Eliminating waste and planning for a better future
Unbabel has referenced "The Toyota Way", a set of principles and philosophies which outline the Toyota Motor Corporation's managerial and production process, as an inspiration.
With two main principles: continuous improvement and respect for people, it's not surprising the Japanese company's philosophy stuck with the translation service platform.
Engineering manager at Unbabel, Eduardo Pereira, cites three basic rules from the Toyota Way text as fundamental guidelines for their company: eliminate waste, be efficient, and be prepared. Pereira believes it's essential to, "try to eliminate waste from your process, your daily routine and your code. Always try to optimize what you are doing and be as efficient as possible: deliver quality fast. Plan for the future. Adapt your way of thinking and your tools."
Unbabel's unique combination of machine and human language processing cuts to the point and sticks with an important main objective: producing a platform that hosts multilingual communication solutions between companies and their customers.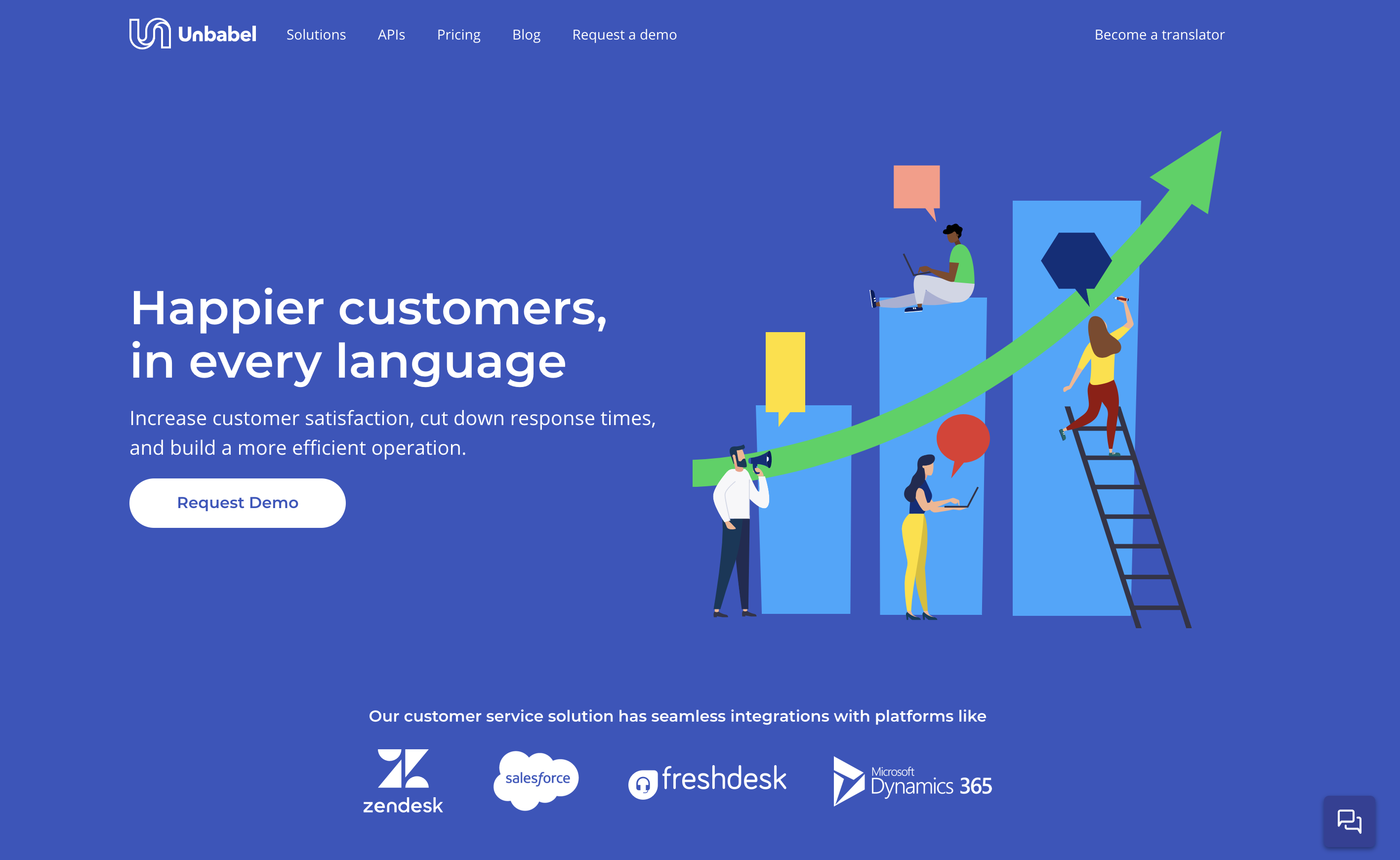 Image credit: Unbabel
Not quite swimming in Babel Fish just yet
So, okay, AI-fueled machine translation hasn't quite gotten us to Babel Fish territory just yet. However, part of what makes Unbabel so exciting is that it combines both machine and human language translation services.
Unbabel's CEO and co-founder, Dr. Vasco Pedro, is the first to admit that while popular machine translation technologies have cleared some pretty massive hurdles, "AI can't be left on its own to provide accurate human translation, especially in the case of business."
So where Unbabel's genius comes into play is in recognizing the real human people behind machine translation services. Especially because most of these services have upgraded to 'neural machine translation', a system which in theory should increase fluency and accuracy.
But as Dr. Pedro points out, the problem with NMT is that these systems rely on domains like news articles or parliamentary proceedings for language interpretation. Meaning, once you throw customer service, and more casual chat-based or product description-heavy conversations, into the mix — things are going to get messy, complicated, confusing. AKA, not very professional. Yes, future tech is cool and all but we still live in an age where people want to be spoken to like they are human, by a human.
Real live human editors of NMT translations understand the context and culture of certain languages and come equipped with guidebooks on style, tone, and formality. Literally, providing that sweet human touch.
Language barrier no more! Unbabel and CRM fit hand-in-hand
By providing sales agents with the confidence to be better understood and to better understand their customers, what Unbabel promises for businesses is to improve the customer journey from steps A to Z.
It makes sense that the translation service integrates with some of the top players in the CRM industry. It's most popular integrations include Zendesk support, Freshdesk, and solutions for Salesforce Service Cloud.
The way it works is simple. Agents receive an email in their customer's native language. The email is automatically translated to an agent's native language and logged as a note. At which point, the sales agent responds in their familiar language using the command #unbabel and said customer will receive a human translated reply.
While it may be impossible to employ several multilingual employees in a single customer service department, language translation services like Unbabel provide a very attractive solution for companies and corporations of all sizes.
Unbabel at Zendesk Relate 2018
Given Unbabel's strong 3-year relationship with Zendesk, it's no surprise that they will be attending the CRM's upcoming conference, Zendesk Relate, running in San Francisco from November 12th to 14th.
At the conference, Unbabel will discuss an exciting new integration with Zendesk Chat, which the companies claim will be, "in line with Zendesk's key focus to deliver best-in-class customer support via chat, at a quality, speed, and price no one else can match."
The new AI and human-powered translation integration demonstrates an exciting new offering for the future of customer service. As Unbabel will now cover customer email, chat conversations, and help center articles, "the full trilogy of non-voice channels for all Zendesk customers."
Where will the future of Unbabel take us?
The company is expanding its translation service offerings to video. While the service doesn't allow for real-time, Babel Fish-level translation, the user does have the ability to upload a video for "one-stop" translation and transcription. A four-minute video will take ten-minutes on average to prepare for both translation and transcription into the user's native language. Impressive. And combining machines with human-effort means the translation a user receives is actually reliable.
The video feature is huge for businesses, offering a space for companies to reach entirely new consumer markets. However, even beyond business, the services Unbabel offers and continue to work towards could potentially provide a more unified future for each and every global citizen.