Audiense: Get in on Crowd Wisdom
Two kinds of growth
Social listening and marketing tool Audiense is built on the idea that business growth happens along not one, but two trajectories. 
Firstly, businesses grow outward: attracting new customers, investing in new operations, entering new markets, and simply growing larger.
The second form of growth is inward—that is, going deeper into your existing contact list; don't just find more people, find out more about people.
By giving its users insights into custom audience, broad and niche, Audiense helps businesses understand more about their markets, plan and execute campaigns, and target the right people.
Partnerships: Bulk and brains
Audiense is no lightweight consumer-insight app. Its bona fides are proven by their strategic partnership with two colossal entities: Twitter and IBM. These partnerships give Audiense a competitive edge in getting the most robust data, the smartest analysis, and some choice advertising real estate.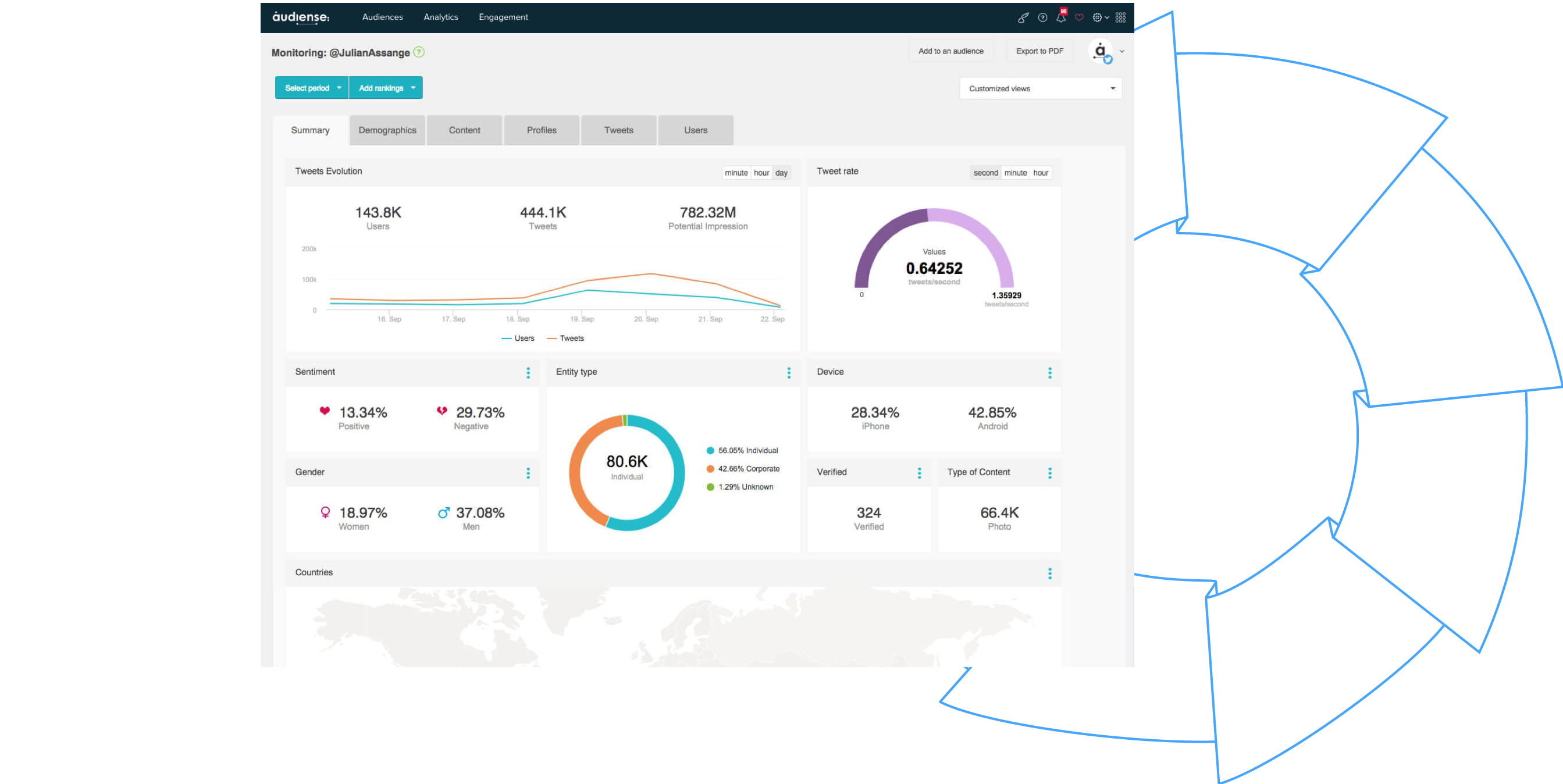 Audiense is one of Twitter's Official Partners, giving them real-time access to the platform—both monitoring and listening—as well as everything in their archives, all the way back to 2006. 
This gives Audiense users a huge ad-advantage.
When it comes to the brains behind the numbers, Audiense has partnered with IBM Watson, which lends its cognitive analysis, personality, image, and sentiment intelligence to the platform's insightful leveraging. 
This Audiense is a packed house
The total Audience platform is divided into two parts: Insights, for building audiences and uncovering trends; and Connect, for social media listening and marketing.

Audiense's Insights offering is broken down into six tools.
Identification is for building broad audiences where you get to pick and choose the attributes you want to select from several categories: Relationships, as in who people connect, follow, or communicate with online; Behavior, what one watches or buys online; Interests, what one likes or engages with; as well as the basics like Demography and Location. 
Segmentation is a bit more specific than Identification. It focuses less on the biographies and locations of people and more on how people are connected. 
You create segments from individual attributes and Audiense gives you visual mapping with lines interconnecting all the segment points (think of those obsessive TV cop bulletin boards with the red strings connecting the photos).
This is ideal for clusters based on who knows who—that is, friends, followers, and connections.
Twitter profiles can be used to build audiences. Audiense gives its users access to Watson's Personality Insights module to create "personality portraits" based on analyzing written text. 
This feature goes deeper than basic behavior, engagements, and connections and into the psychology of your audience, providing a glimpse of their personalities, needs and values.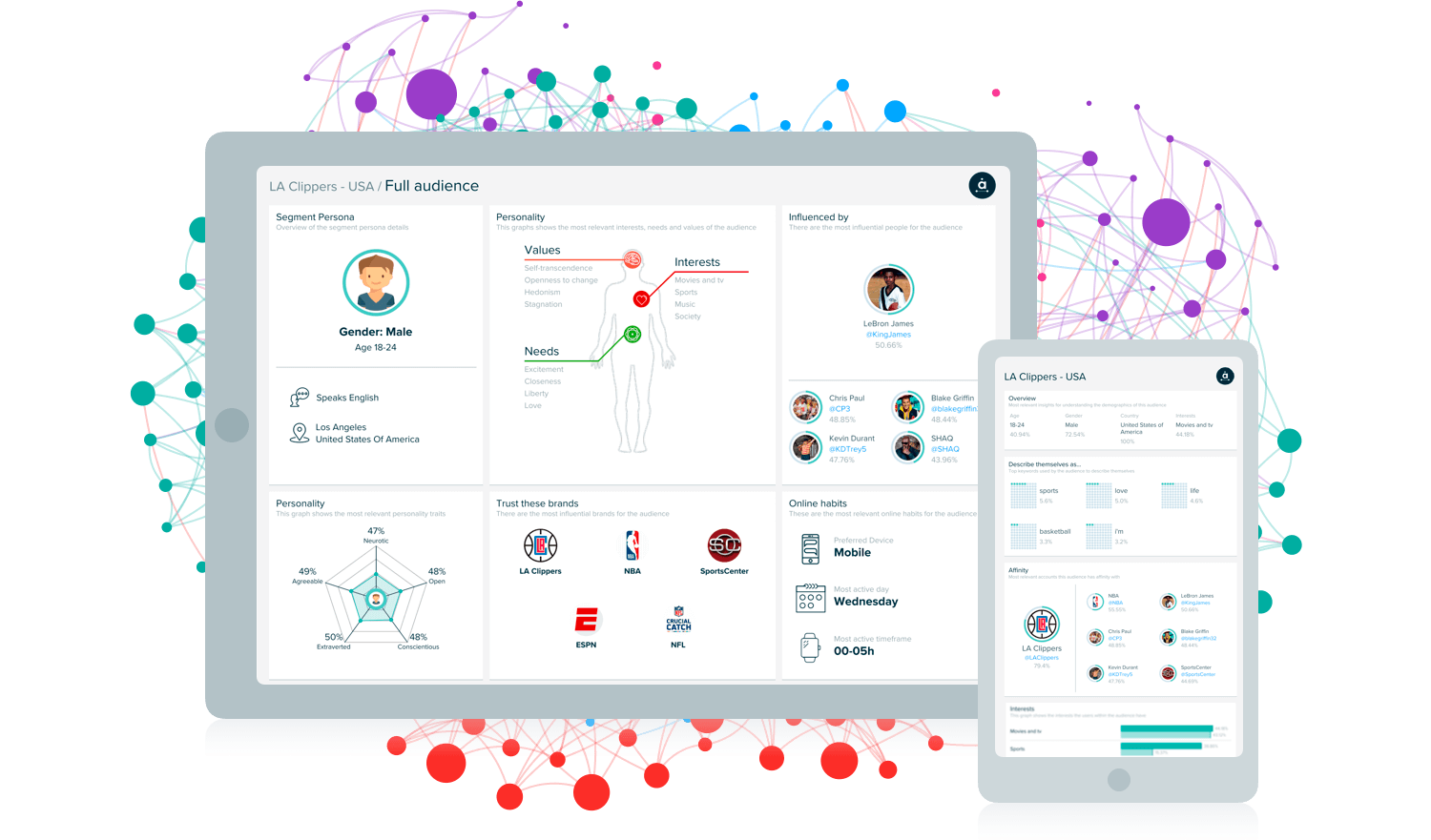 Individual audience members are analyzed and plotted on a graph. The scales used for plotting are metrics like "agreeable", "neurotic", "open", "conscientious", and "extraverted". Each metric is determined by specific scales, for example:  
Agreeableness: Proud <-> Modest

Conscientious: Content <-> Driven

Neuroticism: Self-controlled <-> Hedonistic
Aside from basic consumer traits and trends, this intelligent feature helps for planning the tone of voice for targeted campaigns.
The Influencer Identification tool helps brands connect with this new model of sponsorship. Audiense has a database of influencers you can search through to find the right one for a target audience. It shows you stats for each influencer, with metrics for uniqueness, reach, and social media presence. There are ways to filter between macro and micro-influencers, or between individuals or whole brand influencers. The platform will take your influencer budget into account too.
Audiense Insights includes a Media Strategy feature, which works well for a business with limited resources and budgets who don't have dedicated media departments or the ability to outsource to agencies. 
The platform gathers intel using over 175 attributes to find audiences and target clusters. Based on what it finds and what your needs are, it helps determine which social media sites to advertise on and how much a budget should be dedicated to paid ads versus what could be expected from earned media. 
Furthermore, the Media Strategy feature measures the impact of ads, including the value of its ROI, and shows the evolution of your customer base from before to after a campaign launch. All of this then helps plan future media strategies.
Finally, there is Data Export, for sharing and printing clean-looking reports using templates. This is good for internal collaboration, as well as for preparing presentations. 
Connect is Audiense's multi-angle approach to Twitter marketing. Just to give an idea of how successful it is, Twitter uses the platform themselves. Other notable brands include The World Economic Forum, Puma, Fox Sports, Carlsberg, and DHL. 
Connect lets you manage all your communications with your followers, providing a history of all instances of engagement (sort of like a CRM for social media connections).
Audiense's audience-building powers are not only limited to broad networks: You can apply the platform's identification and segmentation tools solely to Twitter profiles to create Twitter-specific custom audiences.  
Connect also offers a Listening tool that uses Audiense's privileged access to real-time content as well as the encyclopedia of Tweets dating back to 2006. 
The feature can do conversation analysis, say, if you want to sort through convos looking for certain words, topics or mentions by people you'd like to market to. Then, when you find who you're looking for, there's a one-click campaign targeting option.
You can build a Chatbot for Twitter based on a custom-scripted conversation tree using the voice and style that matches your brand. The chatbot can have an opt-in button so that a user can subscribe instantly to your content.
There are plenty of other useful features that come along with Connect. Some examples: 
Get notified on the best times to tweet

Auto-follow back new followers

Filter out the unnecessary with a spam detector

Flag inactive or noisy followers 

Compare Twitter or Tweet stats to a competitor

Make use of an advanced list manager
Lastly, they have Rule Builder, which lets you set up actions to automatically occur after a defined event—the idea being to save you time by automating repetitive tasks.
It works like this: You choose a When event (when someone follows, mentions, retweets, etc.), and then a With clause (with so many followers, with such a reach, etc.), and finally a Then action (then send them an email, add them to a list, etc.).
Here's an example: "When someone with more than 500 followers likes my post, then send them a DM with a link to an exclusive 10% discount promotion."

Payment plans 
When signing up for Audiense you have the choice between Insights and Connect as two separate products. 
Connect is the more basic plan, giving budget operations the basic Twitter marketing tools for only $9 a month, while $89 gets the complete package with Chatbots, Rule Builder and Analytics. There's also a very light free version.
As for Insights, that's more hardcore: You get it all for $1,499 a month, but if you pay for the whole year, you're looking at almost half the price.
Net smart
The rise of dark social and VPNs seems to hint that perhaps the average Joe and Jane might not be too comfortable being so easily discoverable online. This is likely the result of years of indiscriminate spamming and impersonal email blasting: a true trust killer.
So how do you rebuild trust nowadays? One thing is for sure, it won't come from abusing databases to bombard people with sales pitches and other ads. Rather, companies should be working towards communicating the right thing to the right group of people.
If you take the time to learn a thing or two about your contacts, you can offer more honest and relevant engagement. It helps to have the right tools to achieve this. With Audiense, nets aren't cast all helter-skelter—consumer insights aim not to catch, but to connect.